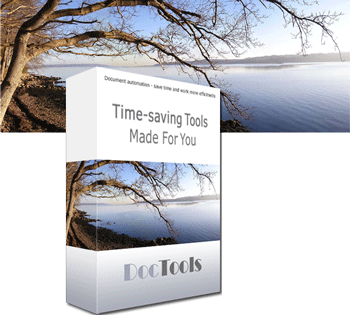 Search thedoctools.com:

Custom Search
References
View Lene Fredborg's profile and recommendations on LinkedIn
Who has DocTools developed solutions for?
DocTools has developed customer-specific solutions in the form of Word templates, add-ins and VBA macros for private companies as well as the public sector. Examples of customers are listed below. You are welcome to contact DocTools for further information.
Danish Veterinary and Food Administration
Denmark

Part of the Ministry of Environment and Food of Denmark

Danish Agency for Digitisation
Danmark

Part of the Ministry of Finance of Denmark

The Capital Region of Denmark
Centre for Financial Affairs – Procurement
Denmark

Systematic A/S
Aarhus, Denmark

Software for healthcare and defense

Dansk Retursystem A/S
Denmark

Runs the Danish deposit and return system for cans, bottles, etc.

Danske Professionshøjskoler
Denmark

Interest organisation that serves as the administrative and policy-making body for the University College sector in Denmark

BRFKredit
Denmark

Mortgage credit institution

Kamstrup A/S
Denmark

Innovative metering solutions for energy & water consumption

Econet
Denmark

Consulting services in the environmental field

University College of Northern Denmark

Regional university college offering several bachelor degree programs

Bascon A/S
Denmark

Consulting engineers and architects

Buanco System A/S
Odense, Denmark

Development, production and delivery of identification, security and registration system
What customers say ... (Click to see the full testimonial)
... It is the best investment we have made for a very long time.
Nick Bigler
Direktør / Ejer
BUANCO SYSTEM A/S
Dansk Supermarked
Denmark

Leading retailer of convenience goods – seven retail chains/
two department stores

Mjølner Informatics A/S
Denmark

Design and development of software

Danish Institute for Quality and Accreditation in Healthcare
Denmark

A2SEA A/S
Denmark

Offshore wind installation and service solutions

Advokaterne C.C. Jørgensen & M. Winsløv
Greve, Denmark

Firm of lawyers

Colliers International Danmark A/S
Denmark, Sweden

Commercial real estate agency

Kunde & Co
Copenhagen, Denmark

Marketing/advertising, branding

KMD A/S
Copenhagen, Denmark (headquarters)

Provides IT and consultancy services to the public and private markets

Patienterstatningen
Copenhagen, Denmark

Independent association that helps patients who have been injured in connection with medical treatment
What customers say ... (Click to see the full testimonial)
... Even within areas that are not directly related to templates and automation of tasks in Word, Lene Fredborg's expertise has proved to be valuable to us. For instance, Lene has solved a very serious problem regarding corrupt Word documents in our document management system.
Thomas Harding Brix
IT System Responsible
Patienterstatningen
AARHUS TECH
Aarhus, Denmark

Vocational education and training institution

Netplan A/S
Hillerød, Denmark

Technical and market related consulting services

Focus Advokater P/S
Odense, Denmark

Firm of lawyers

UNI•C
Copenhagen/Aarhus, Denmark

Agency under the Danish Ministry of Education – delivers IT services to the educational and research communities

Bunk & Elkjær
Viborg, Denmark

Consultancy services
What customers say ...
Wauw – the DocTools really work! It's great to get such qualified assistance in optimizing the daily work.
I can warmly recommend DocTools to others...
Vivian Elkjær
Chief consultant
Bunk & Elkjær
CCI Europe A/S
Aarhus, Denmark

Editorial and advertising solutions for the newspaper industry

Esbjerg Kommune
Esbjerg, Denmark

Council
What customers say ... (Click to see the full testimonial)
... Without Lene's contribution, our handbook would never have had this beautiful layout.
I would therefore like to pass on my very best recommendations of Lene Fredborg for your future assignments. From Lene's part, you will experience great professional competency as well as a very pleasant way of providing service and advice.
Annemette Hauschildt
Principal, Bofællesskaberne Edelsvej
Middelfart Spildevand as
Middelfart, Denmark

Wastewater treatment

C3 Consulting
Løsning, Denmark

Specialization in China, culture and communication

Wick Kommunikation
Aarhus, Denmark

Provides advise related to Internet communication and marketing
What customers say ...
I have been very surprised to learn how much time and trouble I save by using the Word templates and tools that Lene Fredborg has developed for me.
Hanne Wick
Wick Kommunikation
University College Sealand
Denmark

Regional university college offering several bachelor degree programs

UCL University College
Denmark

Regional university college offering several bachelor degree programs

Mediaboost
Vejle, Denmark

Advertising and communications agency

Kalb & Løvbom Kommunikation
Løgumkloster, Denmark

Communications agency

Yellow Research
Amsterdam, Holland

Training and consultancy in the field of EU Framework Programmes, university-industry interaction and managing technology transfer offices
What customers say ... (Click to see the full testimonial)
The Word add-in that DocTools developed especially for us is professionalizing our training material in more than one way ...
Lotte Jaspers
Partner, Yellow Research
Trifork A/S
Aarhus/Copenhagen, Denmark

Software development for the financial and the public sectors
IT conferences and training
VB Sport A/S
Vejle, Denmark

Football club

Vejle Business Development Office
Vejle, Denmark

Business development

Amesto Translations
Aarhus, Denmark

Provider of translation and language services

Advokatfirmaet
Poul Jensen Dahm &
Ib Gorm Pedersen
Middelfart, Denmark

Firm of lawyers

Nordtec Maritime Services
Nørre Aaby, Denmark

Mechanical industry