Products > DocTools WebSearch
DocTools WebSearch
Do you google from Microsoft Word many times every day?
Let DocTools WebSearch help you...
DocTools WebSearch is an add-in for Microsoft Word.
DocTools WebSearch can help you save a lot of time and a considerable number of mouse operations.

DocTools WebSearch makes it fast and easy to google any text directly from Microsoft Word.

If you work with e.g. translation, you may search Google 100-200 or even more times a day. DocTools WebSearch helps you save time and mouse clicks on every search.

You can use DocTools WebSearch in combination with SDL TRADOS without conflict.
What users say ... (Click to see the full testimonial)
WebSearch is another neat timesaving DocTool!
It saves me a lot of time and typing!
Read more about how DocTools WebSearch works below...
Buy DocTools WebSearch
The Price listed below is exclusive of VAT.
Licenses
1 user
Price
€ 15
Please contact DocTools.
How DocTools WebSearch works
| | |
| --- | --- |
| | In Microsoft Word, all you need to do is to select the text you want to google (for example a word, phrase or entire sentence). From the DocTools WebSearch toolbar you can then search Web pages that contain the selected word(s) or contain the exact phrase. |
| | You determine whether you want to search any Web pages or Web pages from a specific country only. Countries included are Denmark, France, Germany, Italy, Portugal, Spain and the United Kingdom. |
| | You can perform searches directly from the keyboard using shortcuts or you can use the mouse. DocTools WebSearch lets you modify both the toolbar and the keyboard shortcuts. |
| | In addition, you can add up to six custom Website addresses to the DocTools WebSearch toolbar. This gives you very fast access to your favourite Websites. For instance, if you are a translator, you may add your preferred dictionaries. |
| | One command has been predefined to go to http://iate.europa.eu, Inter-Active Terminology for Europe (IATE) – the EU's multilingual term base. |
Use shortcuts to quickly close a browser window or tab if you do not need it anymore after having performed a search. In Internet Explorer (IE) and many other browsers, you can press Ctrl+W or Alt+F4 to close the current tab or window. Consult the browser's online help for more details about shortcuts.
The DocTools WebSearch toolbar
Once you install DocTools WebSearch, the toolbar appears with all icons shown. The 'star' icon lets you go to the Website http://iate.europa.eu (IATE):
You can modify the toolbar display and the shortcuts from the Setup menu. The illustration below shows the DocTools WebSearch toolbar with only a couple of visible icons:

If you hover the mouse over an icon, a screen tip shows a description and the keyboard shortcut, if any. Icons with a dark upper-left corner perform an exact search:


The All Searches menu contains one command per search type. The individual command name shows the home country of the Web pages being searched. If a keyboard shortcut has been assigned to a command, that shortcut will be shown to the right of the command name. The bottom seven commands are reserved for accessing specific Website addresses. The first of the commands is reserved for http://iate.europa.eu. The bottom six can be used for Websites of your choice.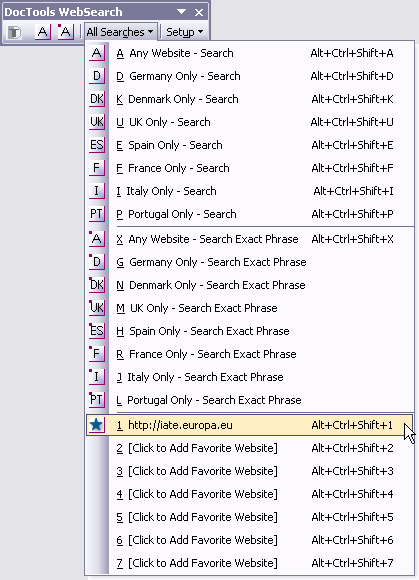 Technical information
Requirements

PC running one of the following program versions:

Microsoft® Word 2000
Microsoft® Word 2002
Microsoft® Office Word 2003
Microsoft® Office Word 2007

User interface language

Toolbar, messages, etc. in DocTools WebSearch are in English regardless of the language of your Microsoft Word installation.

Security info

The DocTools WebSearch files are signed with a VeriSign digital certificate. The purpose is to assure you that the content is safe, truly comes from DocTools and has not been altered or corrupted in transit. In addition, the signature makes it possible for you to use DocTools WebSearch with the Microsoft Word macro security set to high.