Macros...
Macro – Apply Uniform Table Borders to All Tables
Situation: You have a document with several tables. The tables have different borders or another border style than desired. You want all the tables to have uniform borders. You may have experienced that this can be rather time-consuming if you have to correct the tables one by one. Here you will find a macro that corrects the table borders of all table cells in all tables in one operation.
Terms of use
You are welcome to use the macros and Word tips provided on this website. The contents is copyright. You may not reproduce any of contents (with or without modification or credits) elsewhere on the web, or on CD. Please link to the contents on this website instead.
Please note that all free Word tips, macros, add-ins and demos are provided "as is" and without obligation. See also detailed Terms of use.
26-Sep-2008: The macro has been modified to prevent errors in case of tables with only one row or one column.
Example – before and after executing the macro
In the ApplyUniformBordersToAllTables macro, adjust the border width, style and color to fit your needs. The examples below show how diffent tables will appear after executing the macro with the predefined border settings.
Tables before executing the macro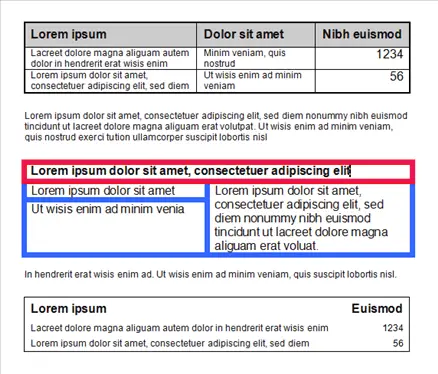 Tables after executing the macro
Note that the third table contained table cells with no borders. The macro applies borders to such cells too.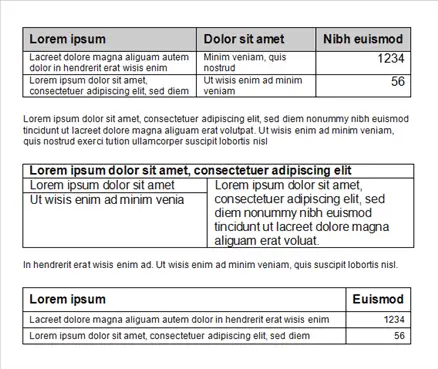 VIEW AS HTML
Macro – Apply Uniform Table Borders to All Tables

DOWNLOAD BAS
Macro – Apply Uniform Table Borders to All Tables
Related information
See general information about VBA macros and code snippets, incl. information about how to install macros.

ADD-INS Word add-ins ready for use - work smarter in Word