...introduction continued – Macros
More about the VBA macros and code snippets
If you use the free macros or code snippets from this site, please note that you may need to adjust the code in order to fulfil your needs.
Interested in a customized version of a macro?
Customized versions of macros can be provided on a time and material basis. Please contact DocTools.
Microsoft Word versions
The macros and code snipptes are made for use in PC/Windows versions of Microsoft Word and have been prepared using different versions of Microsoft Word from Word 2003 to Word 2016. The macros can in general be expected to work in all those Word versions unless otherwise specified. Screendumps and descriptions may differ from what you see on your computer if you use another program version. Most of the VBA code will work in older/newer Microsoft Word versions too.
About error handling in the macros
Error handling will be included in some of the macros in order to handle obvious error situations. However, the specific conditions under which you use the macros may require that you implement (additional) error handling.
How to install the macros
Each macro will be available in two different ways:
| | |
| --- | --- |
| | You can open a separate window that contains the code in HTML format. You can then copy the code and paste it into the Visual Basic Editor. If you paste the code somewhere else, e.g. in a Word document, paste it as unformatted text. |
| | You can download a code module (a .bas file) that includes the macro code. You can then import the code into an existing project in the Visual Basic Editor (via File > Import File). |
Code snippets may only be available in HTML format.
You can identify the two options as illustrated below:<7p>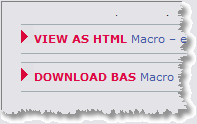 Where to find help on installing macros?
You will find information about how to install macros here:
How to work more efficiently with VBA macros
MZ-Tools is an add-in for VBA. In the same way as macros can help you be more productive and make better documents in Word, MZ-Tools can help you be more productive and make better code in VBA.

READ INTRO
Read further introduction to the MZ-Tools add-in for VBA

ADD-INS Word add-ins ready for use - work smarter in Word